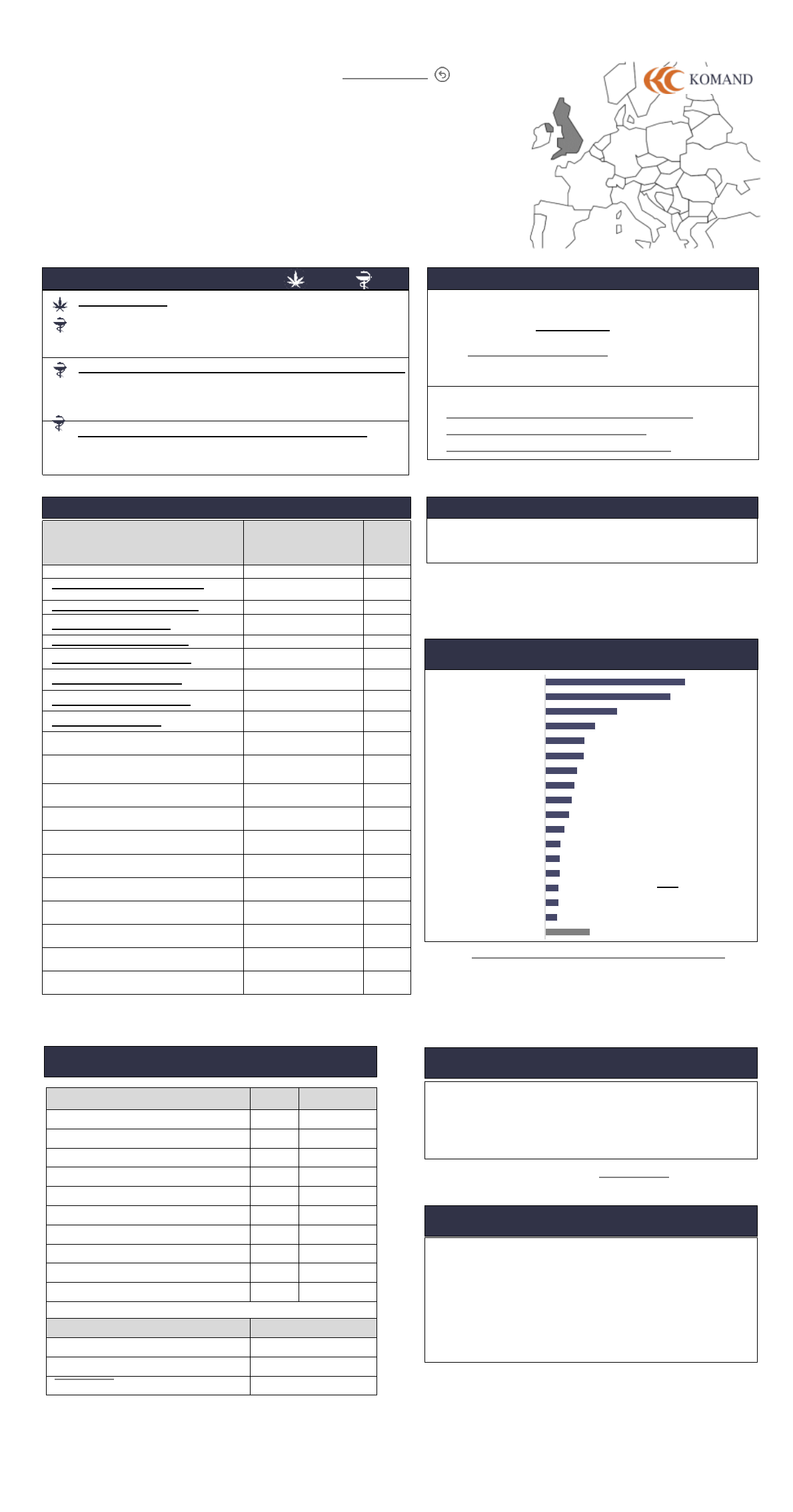 © 2020 KOMAND Consulting
UNITED KINGDOM
Wholesale Medical Flower Price/Gram
: €10.7

(Est. 2019)
Pharmacy purchase price from licenced distributor
Current Med/Rec Usage (15-64yrs):
7.2%

(2017 Prevalence)
Not permitted :
CBMPs
not to be prescribed for chronic pain
Project Twenty21 Medical Cannabis Program
Listed Ailments/Symptoms
i
Sources : European Monitoring Centre for Drugs & Drug Addiction (EMCDDA)
worldpopulationreview.com, IMF, KOMAND estimate
1. Anxiety Disorder
2. Chronic Pain
3. Epilepsy
4. Multiple Sclerosis (MS)
5. Post Traumatic Stress Disorder (PTSD)
6. Substance Use Disorder
7. Tourette's Syndrome
NICE recommended CBMPs
a
Product (permitted ailment/symptoms)
i.
Sativex

(Spasticity, MS)
ii.
Epidyolex

(Lennox-Gastaut syndrome, Dravet syndrome)
iii.
Nabilone

(Intractable nausea and vomiting)
Back to Europe
STATUS
•
Medical cannabis prescriptions are legally permitted at doctors'
discretion, but the NICE guidelines for UK prescription are
restrictive (guidelines for NHS physicians)
•
The Patient Registry for Cannabis-Based Products is being
launched by the NHS in 2021
NEWS
•
Tilray in deal with Grow Pharma to distribute medical cannabis in the UK
•
NHS launching patient registry, support evidence for cannabis medicines
•
UK medical cannabis card launched for private prescriptions
Status Quo & Recent News
Products
Other
Glaucoma
Heart disease
Epilepsy
Schizophrenia
Peripheral neuropathy
Spinal cord injury
Cancer
High blood pressure
IBD
Psoriasis
Autism spectrum disorder
PTSD
Insomnia
Arthritis
Chronic pain
Anxiety
Depression
6.2%
1.7%
1.9%
1.9%
2.0%
2.0%
2.2%
2.7%
3.3%
3.7%
4.0%
4.4%
5.3%
5.5%
6.9%
9.9%
17.2%
19.2%
UK National Survey of Conditions/Symptoms
Cannabis usage for medical purposes %
c
Other:
HIV/AIDs, Huntington's disease,
Parkinson's disease,
Vascular disease, MS
Immunosuppression
Source:
Scale of Illegal Cannabis Use for Medicinal Intent in the UK
Taken from a YouGov survey of about 10,000 UK adults (4916 participants
had medical conditions of whom 281 reported use of cannabis)
Conditions listed for Project Twenty21; run by drugscience.org.uk;
supported by medical companies, The Royal College of Psychiatrists, The
British Pain Society, the United Patients Alliance, patients, peers and
medical cannabis campaigners; 20,000 patients to be subsidised to gather
solid evidence aimed at encouraging NICE to recommend further medical
cannabis products on the NHS
NICE's "Cannabis-based medicinal products" (CBMP) list is restrictive, but medical
cannabis flower and oil products are being imported to supply specialist
consultants/clinics outside of the NHS
NICE : Cannabis-based medicinal products
Listed Ailments/Symptoms
h
1. Intractable nausea and vomiting
2. Chronic Pain
3. Spasticity
4. Severe treatment-resistant epilepsy
These are the conditions listed on the
NICE guidelines
. However, lack of doctor
education and training for medical cannabis prescriptions have constricted the
growth of prescription numbers
Patient Count 2019
<500
Patient Count (KOMAND estimate)
b
Patients
b
The Patient Count is the total population of patients that have been
prescribed medical cannabis at some point since legalisation
This estimate is based on discussions with U.K. medical cannabis market
access and cannabis clinic companies
National Guidelines & NFP Pilot Program
The Home Office
The Home Office acts as the UK National Cannabis Agency, issues
licences for cultivation, manufacturing & import of medical cannabis
Medicines & Healthcare products Regulatory Agency (MHRA)
Sets admissible standards for medical market authorisation,
including narcotic medicines. Issues wholesale trade licences
National institute for Health & Care Excellence (NICE)
Issues doctor guidelines covering the prescribing of cannabis-
based medicinal products (CBMPs)
Regulatory Agencies
Cannabis
Pharma
Last Updated – Jan 2021