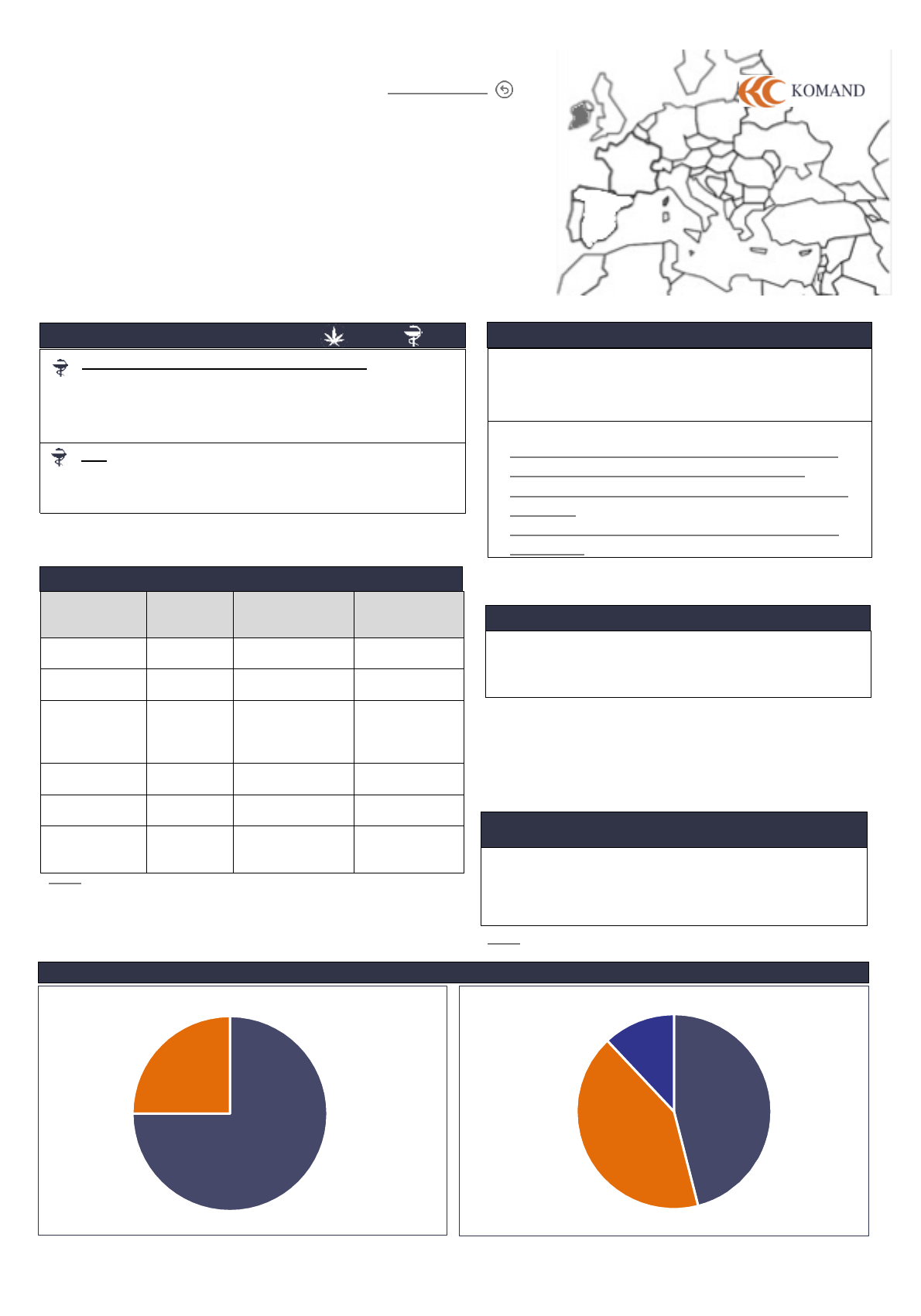 © 2022 KOMAND Consulting
Ireland
Wholesale Medical Flower Price/Gram
: €9.15

(street price
2020)
Current Med/Rec Usage (15-64yrs):7.7%
Patient Count 2022
26 patients have been approved for MCAP since July 2021
70(est) patients access cannabis via ministerial licence scheme
Patient Universe
b
Sources : World Population Review, World Bank, EMCDDA, UNODC
STATUS
•
A 5-year Medical Cannabis Access Programme was signed into
legislation in July 2021. Patients can also access medical
cannabis via ministerial licence.
NEWS
•
The Cannabis Regulation and Control Bill 2022 is going to the Dáil in
November, seeking to decriminalise cannabis for personal use
•
Ministerial licence scheme issues first medical cannabis prescription for
endometriosis
•
Patients campaign to broaden criteria for medical use. DOH prepares
review of MCAP
Status Quo & Recent News
Patien
ts
Produc
ts
List of Approved CBMPs for use under MCAP
a
Back to Europe
Medical Cannabis Access Programme
Indication Guidance
c
1.
Spasticity associated with multiple sclerosis
2.
Intractable nausea and vomiting associated with
chemotherapy (CINV)
3.
Severe, refractory (treatment-resistant) epilepsy
c
Gov.ie
c
Department of Health
The DOH and the HSE do not hold information on prescriptions issued by
consultants/ GPs for the Ministerial Licence of the MCAP
Last Updated – Nov 2022
Health Products Regulatory Authority (HPRA)
Regulates
medicines and clinical trials. It has developed guidance on the
requirements for cannabis-based products or preparations to be
considered by the Minister for Health for inclusion in Schedule 1 of
the Misuse of Drugs Regulations 2019.
HSE
Responsible for maintaining a register to facilitate the enrolment
and record-keeping of patients, prescribers and products included
in the Medical Cannabis Access Programme.
Regulatory Agencies
Cannabis
Pharma
a
Gov.ie
The HSE Medical Cannabis Products Reimbursement Scheme (MCPRS) helps
patients apply for funding for the CBMP prescriptions issued by consultants
(limited to CBMPs purchased from Transvaal Apotheek (pharmacy) in the
Netherlands).
Indications
Treatment, by conditions and access route (Nov 2022)
d
Product
Format
Composition
Manufacturer
Aurora High CBD
Oil Drops
Oral Solution
3%THC | 60% CBD
Aurora
10% THC | 0.5%
CBD
MGC Pharma
Tilray Oral
Solution
THC10:CBD10
25ml
Oral Solution
1% THC | 1% CBD
Tilray Portugal
Aurora Sedamen
Softgels
Capsules
5mg THC /capsule
| <0.2mg CBD
Aurora
Oleo Bedrobinol
Dried Flower
13.5% THC | <1%
CBD
Bureau Voor
Medicinale
Oleo Bedrocan
Dried Flower
22% THC | <1%
CBD
Bureau Voor
Medicinale
Epilepsy,
75%
Further
conditions,
25%
d
DoH
MS
Spasticity,
46%
Epilepsy,
42%
CINV, 12%
Ministerial Licence
MCAP